Cancer does NOT discriminate!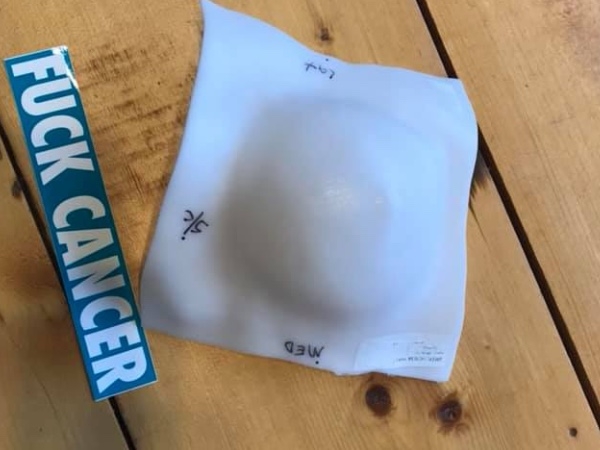 Last year I participated in Barbells for Boobs in honor of Marianne Raines.  She was my father's AMAZING significant other that we lost, after a strong battle, to breast cancer.   This year,  I am participating in honor of Marianne and ....
Summer of 2018 was unforgettable!  
Think you're not a candidate for breast cancer?   Think again!
This may shock some of you.  I have not openly shared my breast cancer journey outside of Crossfit Addict.   I cannot  proceed without saying how important it is to surround yourself with greatness.  My Crossfit Addict family has given me endless love, support, drive and strength to fight cancer and win. 
I'll try to make what seemed like an endless journey, short...
In May I went for my mammogram.  A couple weeks later I was called back for another mammogram.  I had no worries.  Why?  I am a fit person that eats fairly clean and I have no family history of cancer.   My May and June consisted on mammograms, ultrasounds, biopsy, MRI, CT scan and lots of tears.  On the first day of summer, I was officially diagnosed with breast cancer.   BOOM! 
I'll never forget being told that I had cancer.  I was angry. I screamed! I swung punches.  I refused to sit in the chair. I refused to accept it.  And then I literally crawled up in the corner of the doctors office and cried.   Todd just hugged me and told me that everything was going to be okay.  My friends came over that night and hugged me and shared their love and support.   Wine and chocolate in tow. 
I continued with my daily routine but most days I walked into the gym with sorrow, self-pity, worry and great sadness.  My coach, Trey, took me for a walk and I shared the news. We sat and he lended his encouragement, support, love and strength! When I just wanted to say that I couldn't do this, he reminded me of my strength and fierceness.
June was a fog.  It consisted of doctor appointments, tears, more doctor appointments and more tears.  
On July 02, I had nipple sparing surgery and 3 lymph nodes biopsied.  Soon, which seemed like FOREVER, I found out that 2 of the 3 lymph nodes were positive.  This was a total shock to everyone! On July 13th, I had  a double mastectomy with reconstruction.   On August 15th, I had my first of 28 radiation treatments.  On September 24th, I completed my last radiation treatment.
On October 25, I will complete my first Grace WOD at Crossfit Addicts, Barbells for Boobs event.   A year ago I would have been beating myself, worried about Rx weight or my time.  This year has brought new gratitude and wisdom and a lot less ego.  I am honored to be here and share this cause and event with you!   I invite you to join us.  I invite you to donate to a cause that will effect someone you know. 
#fuckcancer,
Theresa Marie Green, TMG, wife, daughter, sister, friend, aunt and cancer survivor.